---
HOW DOES IT WORK
Photochromic lenses achieve their photochromic properties through the embedding of microcrystalline silver halides (silver chloride) in the lenses. These lenses darken when exposed to ultraviolet light of the intensity present in sunlight, but not in artificial light. In the presence of UV-A light, electrons from the glass combine with the colorless silver cations to form elemental silver. And because elemental silver is visible, the lenses darken.
Main Features :
1.UV400 PROTECTION
Our sunglasses block all three ranges of ultraviolet radiation: UVA, UVB and UVC and protect the human eye 100% from harmful effects of the sun rays. This is achieved by a multi-layer lens design for optimal eye protection.
2.POLARIZED
While most glasses only offer UV-A and UV-B protection, we go the extra mile by also polarizing our lenses. Polarization helps reduce strain on your eyes, increases visual comfort and more importantly, it dramatically increases visual clarity by reducing glare. In addition to all this, you can experience the world in brilliant colors and with more contrast than ever before!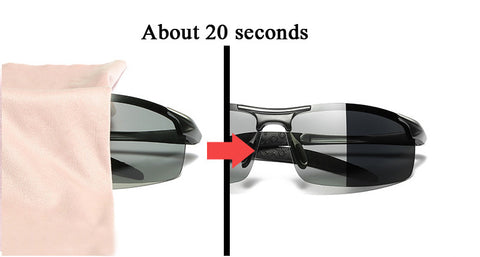 The Polarized Test Tools is included in the package , you can test it by yourself.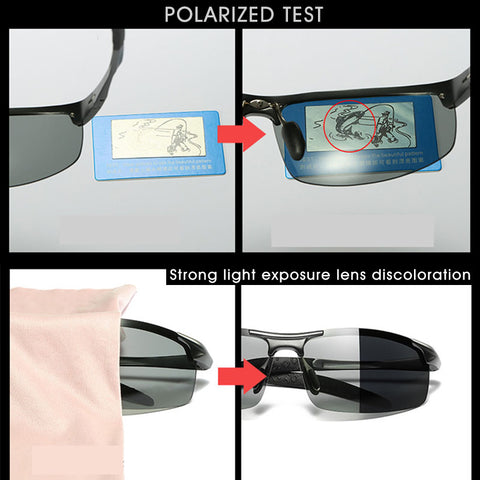 Discoloration Principle

This glasses lens is contain discoloration factor, it will occur chemical reaction under the ultraviolet radiation.
When the sun changes strongly, the lens color will be dark gradually and it will absorb ultraviolet rays at the same time.
But when their is no sun light , the glasses lens will be back to original color.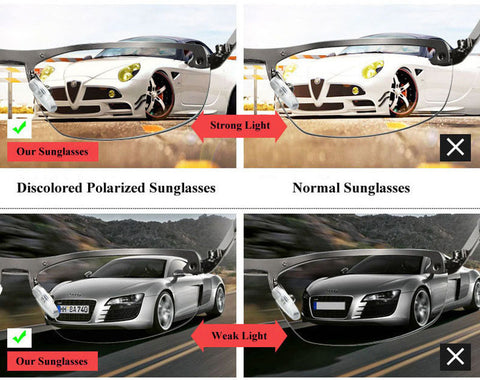 3.BUILD QUALITY
The SunRay™ Photochromic Polarized Glasses are not only superior in lens technology, but also surpasses all competition when it comes to build quality and durability.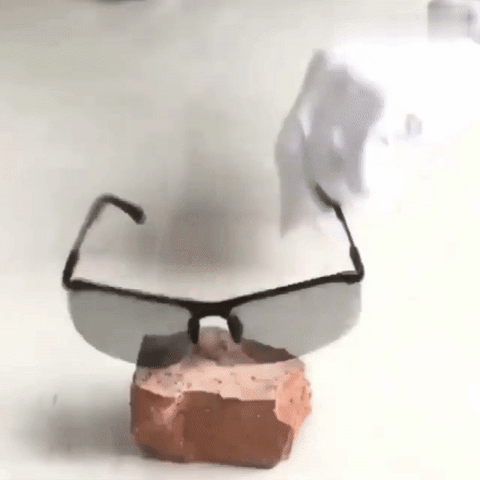 4.Lightweight 
Our frames are made of Aluminum and Magnesium which are known for their extreme strength while being lightweight.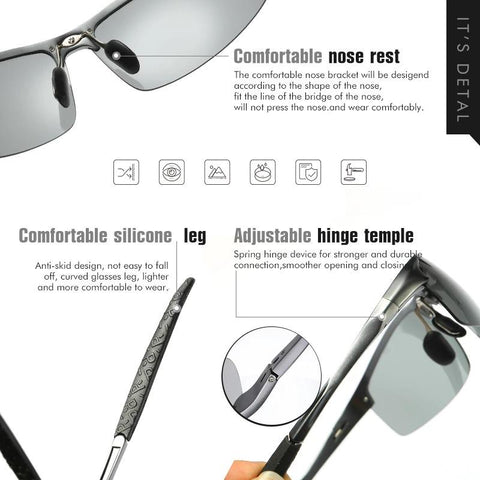 5.Perfect for Outdoors
Perfect for all kinds of active lifestyles: Golf, Fishing, Running, Cycling etc. The SunRay™ Photochromic Polarized Glasses are the only pair you'll ever need!
Description:

◆ The photochromic sunglasses are made for you.
◆ The yellow lens is specially designed for driving at night, and its legs are adjustable.
◆ Smart Sunglasses: the lenses are transparent when you are indoors, darker outdoors. Glare eliminated and 100% UV blocked.
◆ With fashionable and comfortable design, you will be more attractive.

Features:

▪ 100% UVA / UVB protection
▪ Photochromic: With multi-layer coating technology
▪ Polarized ,TAC lenses
▪ Metallic frame , bridge and arms
▪ Goods come with dedicated packaging
▪ Adjustable rubber nose pads
Size:

This section doesn't currently include any content. Add content to this section using the sidebar.