---
Description
Totwoo is the leader of smart jewelry brand in the world which has already won over 10 innovative awards since it's launched in Milan, 2015
No matter you are in a long distance relationship or just separate for a short period of time. Totwoo can connect you with your significant other, and let them know that you are thinking of them.
Design Concept
My heart is, and always will be yours.
- Jane Austen
The design of our jewelry was inspired by the sun and the moon
He was the sun, she was the moon, they were opposite souls
The most beautiful thing is that
The moon lets the sun through the day
The sun lets the moon glimmer at night 
Functions
An exquisite, handcrafted piece of jewelry that offers loved ones an intimate way to connect online. A traditional Totwoo jewelry powered by modern technology.
 1. Send a love code 
Touch the bracelet or send messages via Totwoo app to notify your beloved one. The Sun or Moon shape on Totwoo jewelry will light up when your partner receives a Totwoo love code. It's a unique way to let them know while you're thinking of him/her.
2. About the design 
The Moon's model of this product uses a large Swarovski crystal, a classic elastic bracelet type

The Sun's chain is using Cuban chain, a proprietary chain style
3. A Private chat for two
Share secret messages that only be seen by two of you. Totwoo app offer you a more personal way to stay connected with your loved ones.
4. More Functions
You'll experience more with Totwoo Always Collection.
Create Surprise Messages!

Decision-making 

Call Notifications

Daily horoscope
5. Multifunctions 
This bracelet can also be used as a necklace and it's supported by our DIY accessories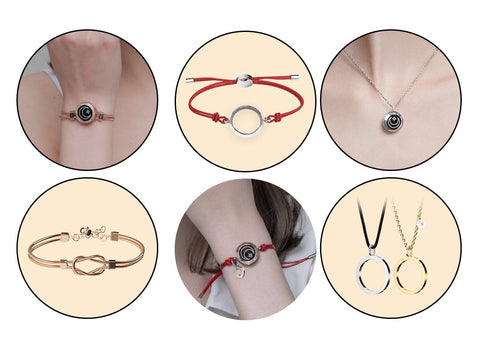 HOW TO FIRST SET UP TOTWOO BRACELETS
Details
Water Resistance: Waterproof

Connection: Bluetooth 5.0

Compatibility: IOS & Android system

Materials: Zircon, stainless steel, Swarovski Element

Size: 
           Men's Bracelet is adjustable: 17-21cm;
           Women's Bracelet: S M L (15-18.5cm)
Battery Life: 15-30 days according to your usage.

Packaging & accessories: Button Battery