SAY GOODBYE TO THOSE INSISTENT STAINS AND DIRT! 
Our products are here to take care of your problem by providing cleaning brushes that will get rid of those nasty stains in the gaping hole. 
Family helper in daily life!
Specially used for crevice cleaning, can go deep into crevices and small holes to remove blockages. At the same time, it will not damage the surface. (Suitable for holes with a diameter greater than 0.7mm).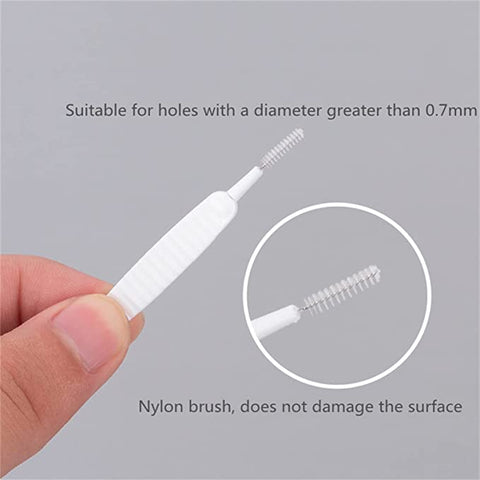 I bought these to clean the amounts of dust that have collected inside the gaping hole of my shower head. The bristles are soft enough to fit inside but stiff enough to do a great job of cleaning. 

- Hilary

 Great for getting in crevices that need a quick clean.  Easy to clean afterward. I'm thrilled as now I won't have to go through the trouble of block the shower hole. A great cleaning tool to have!

- Caroline
Reason for choice
◆|  Well-spaced bristles design, particles rinse away easily.
◆|  Durable, strong but soft nylon bristles for cleaning.
◆|  The perfect tool for stainless, silicone, and glass gap hole.
◆|  Set of 10 brush, a great gift to family and friends.
◆|  Should be dried well after each use and stored in a dry place.
◆|  Multi-purpose, convenient for cleaning specific stuff and corners hard to access.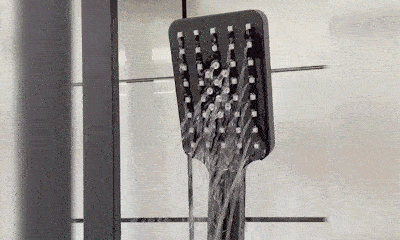 DESCRIPTION
► Multifunctional: The small cleaning brush can clean cell phone holes, bathroom shower holes, computer keyboards, window slots, blinds, gas stoves, sinks, faucets, etc.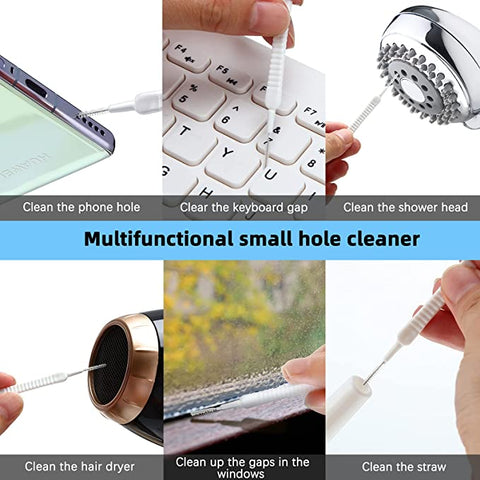 ►Easy to use: Just insert it into the tube, twist it, and wash it after use and it can be reused. The non-slip handle design with concave and convex lines makes it more comfortable to hold.


► Townhouse Design:10 packs of row design, take it as you use it, easy to store. You can keep some at home, some for carrying around or share with friends.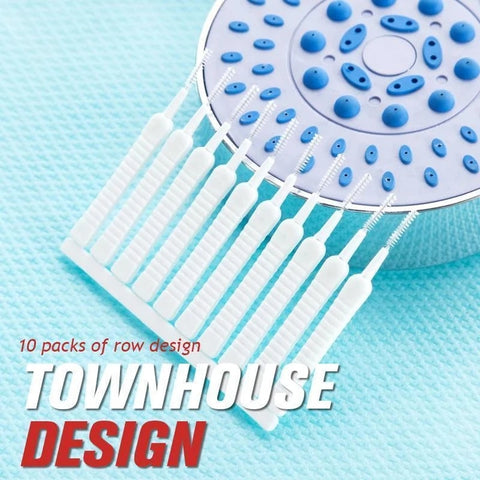 ► Durable::The cleaning brush handle is made of high-quality PP plastic, and the bristles are made of nylon, which has good flexibility, wear resistance, heat resistance, and no deformation.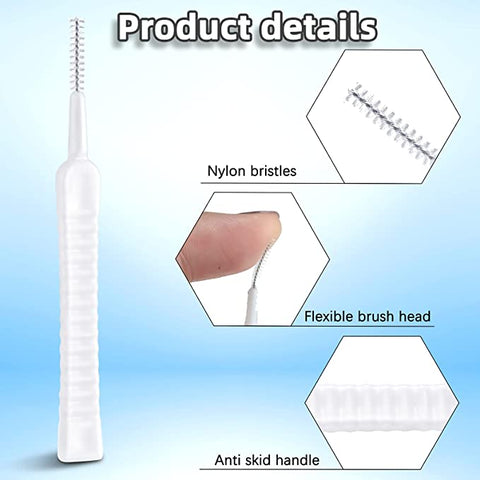 SPECIFICATION
☛ Material:
 - Handle: Polypropylene
 - Brush: Nylon
 - Wire: Stainless Steel
☛ Color: White
☛ Weight: 12 g / 0.03 bl
☛ Size: 6 * 0.8cm / 2.36 * 0.32 Inches
☛ Brush Head Size: 1 cm / 0.39 Inches
☛ Heat Resistance Temperature: 100℃
☛ Package Included: 10 PCS / Set Gap Hole Cleaning Brush
WARM TIPS
※ Please align the small holes and clean vertically.
※ Do not use acid, alkaline lotion, and bleach.
※ Drain the water thoroughly and store it after drying.
※ Do not place it near open flames and high temperatures.
※ Please keep it out of reach of children.