---
The healthiest way to introduce your baby to solid food
The baby pacifier & teether in 1 fruit feeder is now here!
It helps your child transition from eating liquid to solid food. It is non-toxic and chemical-free, which makes it safe for babies. 
BENEFITS:
Makes your baby healthy. An easy method to help your baby eat nutritious food from fruits and vegetables.
Safe for babies.  Reduces the risk of choking and it helps them prepare for a different types of food textures and flavors.
Reduces pain.  Helps them to deal with pain from teething.
Fruity colors.  Helps the baby's comfort in using the pacifier.
Healthy toy. It's a good distraction to let mommy and daddy work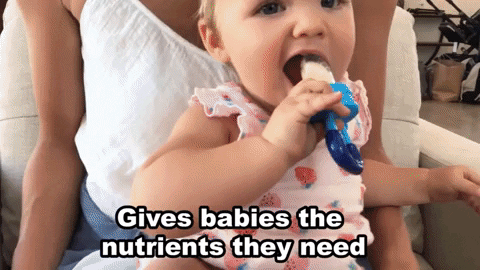 Unique Design



This 2 in 1 baby feeder is specifically designed only to allow the smallest of food pieces to go through its hole so that it will not cause the child to choke on the food substance. It is an effective way of transitioning babies to solid food.

It also has a soft chewable silicone that helps to ease teething discomfort.
How to use:
1. Dice the food into strips, such as fruits, vegetable, meat, and etc.
2. Open the silicone filter
3. Place the diced food on to the filter
4. Secure the lid and let the baby enjoy its food
5. After usage, take out the leftovers and clean it.
Suitable for Children of Different Ages:

S: Fit for Up 4 Months baby
M: Fit for Up 9 Months baby
L: Fit for baby Age more than 12 Months
Product information:
Item weight: 3.52 ounces
Package dimensions: 4.4 x 3.5 x 2 inches
Package Inclusion:
1x baby feeder
This section doesn't currently include any content. Add content to this section using the sidebar.