---
Back Massage Stretcher is a convenient home back pain treatment and a preventative care product.
Simple and passive way to gently stretch your entire back, helping to eliminate the source of your back pain and restore your natural back curve.
Provides back pain relief by lengthening muscles that have been tightened overtime.
✔ Alleviate pain caused by Herniated Discs, Bulging Discs, Spinal Stenosis, Sciatica, Pinched Nerves, etc

✔ Restore your natural curve

✔ Decompress spine, strengthen muscles and improve posture

✔ Relieve and prevent chronic back pain

✔ Improve flexibility

✔ Muscle relaxation and tension relief

✔ Improve blood circulation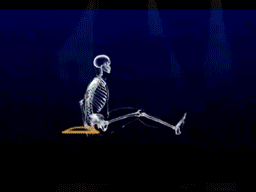 HOW DOES IT WORK?
When lying down on this back stretcher, gravity allows the front of your body to effortlessly stretch out and upwards, and the surrounding muscles start to relax, gently decompressing the discs in your vertebrae, realigning the spine, relieving tension and pain. You'll be amazed by how good you feel after just one use!
As you get more advanced and flexible, you can adjust the curve on the arch to a more advanced setting, and in no time, you'll be walking taller, and with more confidence as your posture will improve.
Is designed to last, using thick hi-tech ABS plastic for durability and longevity.
The unique thumb tip nodes on the arch, feel as if you're getting lightly massaged as your stretching.
Adjustable lumbar stretchers are safer then inversion tables, and more effective than foam back stretchers.
KEY FEATURES
All in one back stretcher, posture corrector, and lumbar support.
Restore your natural back curvature, improve your flexibility and say goodbye to back pain once in for all.
Effective in treating pain from muscle spasms, pinched nerves, herniated discs, sciatica, degeneration, tight knots, excessive flexion and more!
Simple to use, portable for easy travel
Ergonomic design includes a multi-level arch with 3 adjustable settings so that all ages and fitness levels can benefit from using and improve flexibility
ERGONOMIC DESIGN - Based on ergonomics, the contour of the lumbar traction device is designed to mimic the standard body curve to provide better spinal alignment and efficient acupressure massage. The foam pad in the center of this lumbar back stretcher gives cushioning to ensure that your spine feels comfortable.
ADJUSTABLE STRETCH LEVEL - The back massage stretcher has 3 height adjustments. The higher the back stretcher lifts, the stronger stretch you will get. You can adjust this back stretcher device at the most comfortable level for an easy stretch and effective pain relief.
MULTI-PURPOSE - The lumbar alignment stretcher can be used whenever you are lying or sitting. The back alignment device can be placed on a chair to help correct your sitting posture, or in a car seat to serve as lumbar support to help reduce tiredness, especially for a long road trip. This can be a gift for the loved ones you care about.  (load bearing limit: 300lb)
The Back Pain Relief Stretcher is a small lightweight multi-level back stretching device that helps you relax and immediately relieves back pain due to tight muscles, excessive flexion, and poor spinal alignment. Just lie down and relax for five minutes twice a day. It is specially designed for individuals that are suffering from back pain, poor spinal alignment, or those who feel a tightness in their back and need relief. It is highly recommended and used by Physicians, Chiropractors, and Professional Athletes.

BENEFITS
✔️Mitigates chronic back pain
✔️Corrects postural imbalances
✔️Restores the natural curvature of the back 
✔️Improves flexibility in shoulder and back muscle
✔️Alleviates Herniated, Bulging Disc Pain, Spinal Stenosis, etc.
3 STRETCH LEVELS
Features
Increases range of motion and flexibility

Relieves chronic back pain

Enhances Posture and corrects imbalances

Restores the natural curvature of the back

Adjustable to three different levels

Portable. You can stretch any time any where!
This section doesn't currently include any content. Add content to this section using the sidebar.