---
⭐PRODUCT DETAILS⭐
➡️ Have you ever had earphones that did not fit properly or fell out?
➡️ Do you have a headset that gets filthy from being in your ear?
➡️ Do you know that conventional earphones can cause long-term hearing damage to your eardrums while you are unaware?
INTRODUCING BONE CONDUCTION TECHNOLOGY
✅ Now you can listen to music for hours without worrying about damaging your earbuds.
✅ It has bone conduction technology, which uses vibrations to transmit sound directly to the inner ear through the bones of your face (jawbones and cheekbones), which avoids hearing impairment compared to ordinary earphones.
✅ The wrap-around design makes it extremely lightweight and flexible, while also providing a custom and secure fit.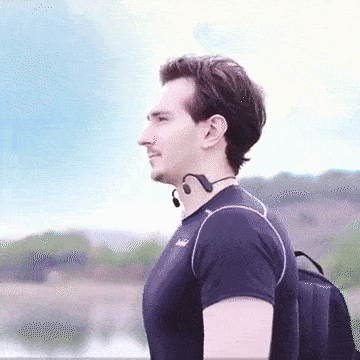 ✅ Sweatproof Design: Now you can amp up your workout with crip and powerful sound that traditional headphones simply cannot match. These water-resistant bone conduction headphones stay securely in place during your workout and exercise session.
✅ A Battery That Just Keeps Going: Enjoy hours of music, calls, movies, and videos throughout the day with over 6 hours of playtime and 15 days of standby time.
✅ Bluetooth 5.1 Connection: Enjoy the convenience of hands-free operation.
With a range of up to 10m, you'll never have to reach for your device again and again. It quickly connects to smartphones, tablets, and other Bluetooth-enabled devices.
✅ Crystal Clear Calls: Never again will you be disrupted. It optimizes your call and reduces background noise with an advanced noise reduction microphone.