---
Add a little beauty to your outfit with this lovely Comfort Lift Bra. The intricate rose detailing creates a racerback design that allows straps to be hidden when going sleeveless or gives a fun touch to open-back tops and dresses.  With a deep V and front closure, the Comfort Lift Bra provides the perfect lift without the fuss of underwire!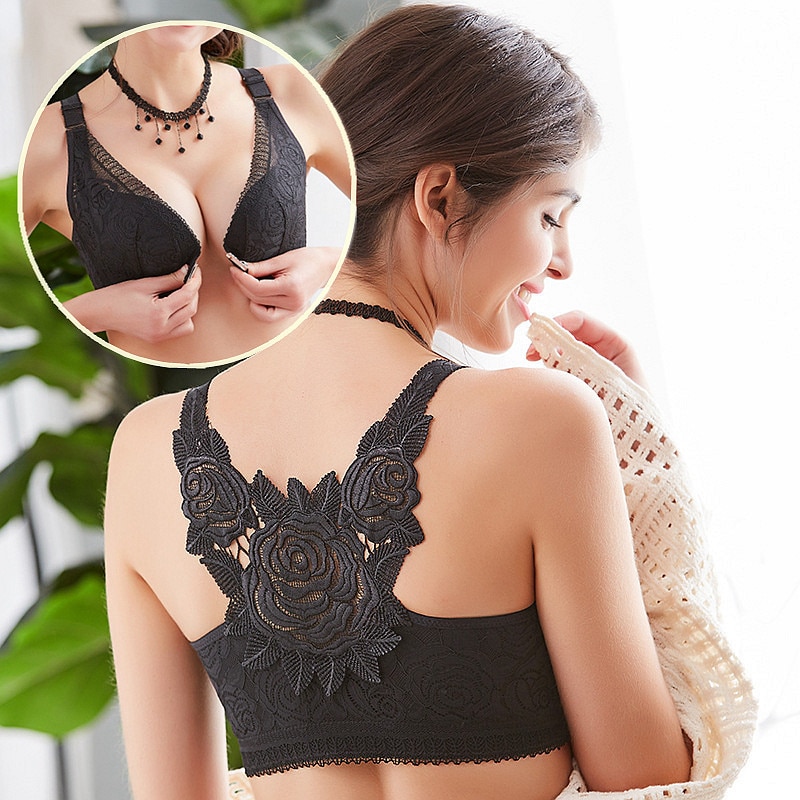 Features:  
Lift & Support
Achieve an incredible push-up without the wires. The Comfort Lift Bra provides amazing support and lift. Wear your favorite plunging tops while this bra does all the work for stunning cleavage with the deep V design. Comfort Lift is not your typical push-up bra!
Beautiful, Stylish Design
Give your backless outfits a twist. The delicate and detailed rose lace of the Comfort Lift Bra adds a fun layer to open-back or mesh tops. Made with a crystal front closure, this stylishly sexy bra is perfect for special occasions!
All Day Comfort
Feel sexy without sacrificing comfort. The Comfort Lift Bra is seamless and wire-free to move with you and minimizes bulges and lines underneath clothing. Created with a racerback design and thick adjustable straps, you won't have worry about annoying digging and pressure. Ultra-lightweight and breathable, this will be your new favorite bra!
YOU ASKED, WE ANSWERED
How can I wash my Bra?
To keep your new bra in the best possible condition – we recommend using a hand wash in cold water. But if you prefer machine washing, please carefully place your new bra in a zippered lingerie laundry bag and place it in a 30°C wash on a delicate setting. Never bleach, iron, or place your bra in a dryer.
Are the straps adjustable?
The best part about the Comfy Bra is that it's an adjustment-free fit! When you get your perfect size, the strecthy straps fit superbly well along the shoulders and sides, never squeezing, only supporting you and your unique shape.
What kind of bra is this Bra?
The Comfy Bra is one-of-a-kind! Gardencyber  Bra is the best of a push-up, a bralette, and a sports bra combined. We rejected all other "normal" categories of bras – because they all had unique problems that we wanted to solve with this Bra. There's no other bra-like this Bra.
What is Comfy Bra made of?
Main fabric (microfibre): Polyester Fiber (Polyester)+Cotton
SIZE CHART
Our size chart is meticulously crafted by fitting experts and mapped according to the US standard. It offers a wide range of sizes so you can find the perfect fit for your body shape and enjoy the full benefits of the Les Rosie.