---
Function:
Suitable for kitchen sewers,
Prevent the sink from clogging,
Kitchen drain bin garbage bag.
Our Disposable Mesh Sink Strainer Bags will make you finally make peace with the sink strainer.
Features: 
Function: Filter tiny food residues, preventing the sink blocked by massive residue. Keep your hands away from cleaning the residues.
Multi-function: Great for kitchen, laundry, utility room sinks and protects bathtubs, shower drains.
High Elasticity: Small but have high elasticity to make it fit any kinds of sink filters.
Easy To Install: As easy as put on a hat.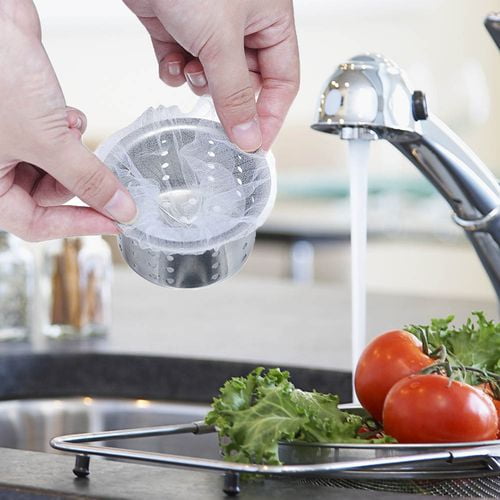 SPECIFICATIONS:
Material:PBS,Made of environmentally friendly materials, non-toxic and biodegradable.(Under normal climatic conditions, PBS can be completely degraded after being buried in the soil for 5 months without affecting the plants)
Color: White
Size:9cm/3.54in*9cm/3.54in
PACKAGE INCLUDE:
100pcs x Disposable Mesh Sink Strainer Bags
This section doesn't currently include any content. Add content to this section using the sidebar.