---
Traditionally, masking tape is used to cover the edges during painting to avoid paint from getting over the edges. The masking process is time consuming and tedious, not to mention getting the tape perfectly in a straight line requires some amount of luck. With the Clean Cut Paint Edger, taping the edges is a thing of the past.

With its innovative and unique design, shave hours off your painting job by edging by hand without taping. Edging narrow spaces is also possible with the short roller. Higher places can also be reached and edged by installing an extension at the end of the handle.

Now, even a beginner can paint perfect edges accurately and consistently without any experience.

Just look at how fast and efficient edging becomes when you edge with this gadget!
⬇⬇⬇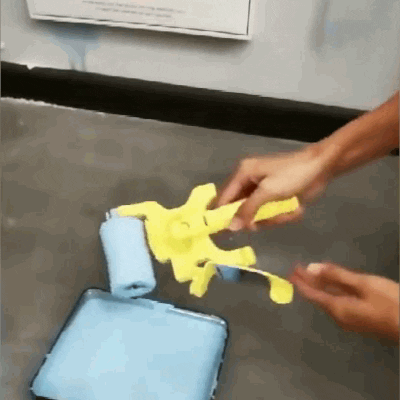 Finish Edging in Minutes - No need to spend time taping the edges before you edge.
High Speed Roller - Paint is loaded onto a standard roller which is then rolled on to the wall. Easily and quickly cut in a 4" wide band of paint along the edge of the wall and be able to get a rolled texture all the way to the edge of the wall, unlike a paint pad.
Accuracy of a Paint Brush -  A small brush picks up the paint that the roller has left and moves it precisely to the very edge of the wall. This brush provides a sharp, precise cut-in line. No need to load the brush with paint.
No-smear Shield Eliminates Taping - A specially-designed shield keeps the paint from getting on the trim or ceiling. Trims and ceilings will stay perfectly free of paint. Paint an entire room or more before having to clean paint off the edger shield.
Cut Down Overall Painting Time- No need to remove tape after you are done painting.
This section doesn't currently include any content. Add content to this section using the sidebar.