---
Automatic Interactive Dog Tennis Ball Thrower
THE ULTIMATE FETCH TOY FOR DOGS!
 This automatic ball launcher allows your dog to play fetch by themselves for hours on end, using the auto tennis ball launcher to keep the dog enjoying the toy indoors and outdoors.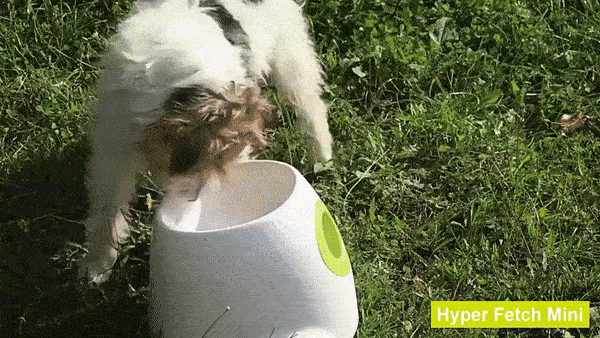 The wide-open top and low down design make it easy for your dog to drop the ball back into the launcher and keep the game going! 
Adjustable Distance Setting - make it throw 10ft, 20ft or 30ft. Great training tool for both older dogs & as a way to tire out energetic puppies.
DOG TENNIS BALL AUTOMATIC LAUNCHER PERKS: 
Fetch Toy for lazy dog owners
Reduce stress, keep your dog active, and no more boredom.
Challenge your pet to learn something new playing fetch with your dog, interactive features aid in training.
A dog toy that drives your pet to exercise more and maintain health.
AUTOMATIC FETCH TOY SPECIFICATIONS :
Works with US plug OR 6 AA batteries.
Material: ABS
Height: 10.6"/27 cm
Width:  8.3" / 21 cm
Depth: 10.2" / 26 cm
Ball:    1.88" / 4.8 cm
Package Contents:
1 x Instructions
1 x Ball Launcher Machine
1 x Power Cord (Batteries NOT included)
3 x 2" Yellow Balls
This section doesn't currently include any content. Add content to this section using the sidebar.