---
Why do I need this?
It is a very effective ultrasonic facial and body beautifying massager.
It's your powerful EMS treatment for skin and body slimming.
Finally, it also works as a skin rejuvenation infrared heat therapy device. It helps to enhance skin texture, has anti-aging properties and gives your skin a more youthful look.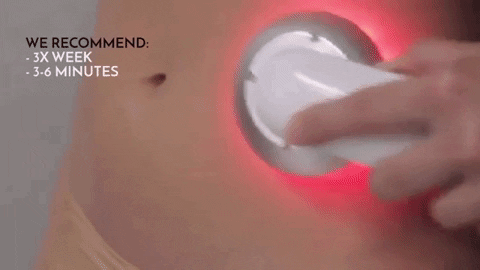 How does it work?
Our 3 in 1 Beauty Device is a very user-friendly product. Simply press the Power Button and choose your preferred option.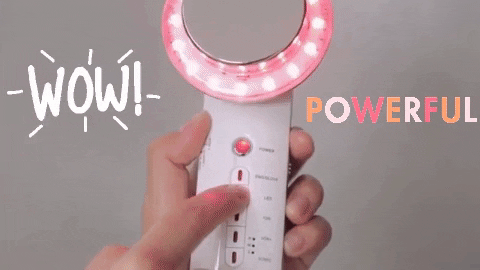 Instruction of different functions:
1. Infrared Function
Infrared ray can penetrate into deep skin and subcutaneous tissues. The wavelength created is very close to the vibration frequency of cell molecules of the body, through resonance absorption, the friction between molecules generates heat, thus increasing the temperature of deep subcutaneous tissues and accelerating circulation of blood. As a result, it can reduce the waste in blood vessels, lessen body injures and activate histiocytes to delay aging. Therefore, infrared ray can improve various diseases caused by poor blood circulation and micro-circulation problems. It is also used to help people with arthritis and abnormal metabolism.

2. EMS
Adopts the principle that it will consume the fat when muscles are vibrated, and adpots the periodic changes of current, using the power therapy repeatedly to achieve the effect of weight loss, massaging and relaxing. When muscles are excited by low frequency current, this causes muscle vibration within certain amplitude. The movement of muscles which is not controlled by will is called passive movement. When this movement happens in the body, burning of energy in the body is more active. Under such circumstances, the amount of consumed oxygen and release of carbon dioxide and water can increase by dozens of times. Under normal movement , muscle may consume 60-70 joule energy per second, but under high frequency movement, muscle can consume 3000-4000joule energy per second

3. Ultrasonic Massage
The ultrasonic vibration can promote the metabolism to excrete the melanin that accumulated in the skin, improving the spots caused by sunburn. Through vibration, makes the skin care products penetrate into the skin, which can benefit for absorption of nutrition. Its heat action, physical and chemical action can increase the deep skin temperature, which can accelerate metabolism and enhance the regeneration of fat and evacuation of tissue waste, repair lymph and capillary vessels, thus promoting body slimming.
Features
Three technology: EMS + Infrared + Ultrasonic, increase fat burning on different body part.
5 Modes of EMS (Tapping, Massage, Knead, Scrapping, Slimming).
5 working intensity, meeting your various requires.
Help diminish the fat and tighten your skin.
Improve the elasticity and make the cells more active.
better regulate internal secretion and accelerate consuming of fat, help you realize the dreams of body slimming.
LED photon therapy,dilute dullness, lessen acne, reduce wrinkle.
Use together skin care gel, body slimming gel.
It's not only applicable on face shaping, but also on body slimming.
Specifications
Material: ABS
Input: 100-240V
Output: 15V  800mA
Power: 6W
Ultrasonic Frequency: 1MHz
Plug Type: AU/NZ Plug
Color: White
Diameter: Outer: 5.5cm / 2.2inch
Item Size: approx. 18.5 * 8 * 6cm / 7.3 * 3.1 * 2.4inch
Package Weight: approx. 392g
Item Type: Body Slimming Machine
EMS function: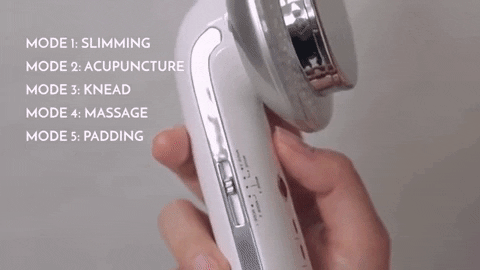 What are the benefits of the 3 in 1 Beauty Device?
It regulates hormonal balance in your body and accelerates fat reduction, realize the dreams of body slimming.

EMS stands for electronic muscle stimulation. These units are designed to provide relief by stimulating the muscles themselves. Electric Muscle Stimulation is used in therapy to treat swelling and inflammation that can put a strain on both the muscles themselves and their supporting joints.
Ultrasound fat cavitation is a lifestyle-driven alternative to liposuction, it is a breakthrough non-invasive, pain-free fat reduction treatment using low frequencies sound waves to target and break down fat cells which are filtered out through the body's lymphatic system.
The Infrared option helps to relax your skin, promote blood circulation and increase metabolism and reduce the appearance of wrinkles. Several clinical studies have proven the anti-aging benefits or red light therapy.

Mini and stylish appearance, convenient to carry, easy to use.
What is red light?
Red light therapy is a therapeutic technique that uses red, low-level wavelengths of light. When exposed to red light therapy, the body produces a biochemical effect that boosts the amount of energy stored in cells, explains Z. Paul Lorenc, M.D., a board-certified plastic surgeon. This helps cells to function more efficiently and repair damage, which is why it's been used to treat scars and wounds. But red light therapy really took off in popularity for its efficacy in combating wrinkles, fine lines, sun spots, discoloration, and other signs of less-than-stellar skin health.
"Your complexion will be more lifted, toned, and improved-resulting in younger-looking, smoother skin by increasing healthy cellular activity," says Vargas. In addition to helping to hydrate and heal the skin, it's also great for anti-aging because it protects existing collagen and elastin, while also stimulating new collagen production, she says.
Dr. Lorenc backs up its anti-aging powers: "I've worked extensively with red light therapy and the skin and find it to be effective at both boosting collagen production and reducing the appearance of fine lines and wrinkles," he says.
And since the wavelengths penetrate deeply, they're more efficacious than say, a wrinkle-reducing serum. Use the two in tandem, though, and you'll see results that are (unscientifically speaking) twice as nice.