---
No more wishing you could touch your toes! Our looped stretch band is a simple solution to those struggling with their training.
Got a beautiful pose you'd like to achieve? grab onto one of the loops and pull yourself closer to your dream of that beautiful back bend or perfect split.
Increasing your range of motion will help prevent injuries and allow you to train more safely. No need to train with a partner because our band allows for safe stretching on your own.  
----------
DURABLE MATERIAL - Our looped stretch band is made of high strength polyester, cotton and oxford fabric making it tear resistant, flexible and durable enough to withstand extensive use.
SUITABLE FOR ALL LEVELS - We designed our band with a multi-loop structure which allows for flexibility training for complete beginners all the way up to super advanced. Move up the loops as you advance in your journey! 
SECURE FASTENING - No more worrying about your band slipping off! Two hook-and-loop fasteners secure the foot pads on your feet.
GUARANTEED SATISFACTION - If there is anything wrong with your order contact our team and we will gladly issue you a full refund. Your satisfaction is our priority.  
INFINITY STRAP
Breathe in, Breathe out.
Allow us to guide you through the infinite wonders of this beauty. With a unique design, the infinity strap will assist you in the treatment of Plantar Fasciitis, Heel Spurs, Calf, Thigh, Hip, and Lower back Strains and Injuries.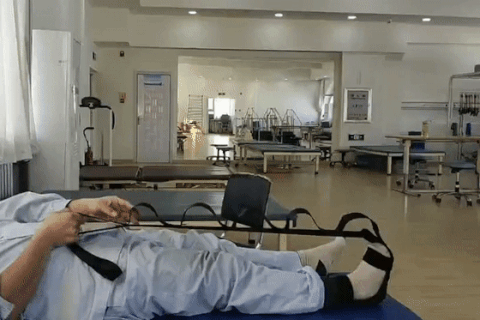 WHO IS IT FOR?
People who love doing yoga
Plantar Fasciitis Patients
It's ideal for people with limited flexibility or range of motion.
WHY DO YOU NEED THIS?
It is excellent for anyone looking to improve their flexibility.
Patented cradle design encompasses the foot for a comfortable stretch; Features multiple strap loops for personal control of each stretch
Anyone suffering an injury with Plantar Fasciitis, strained Achilles tendons, Achilles tendinopathy, Myofascial pain can benefit from using this product by exercising and stretching at home.
Relaxes Muscles & Joint - promotes blood circulations, reduces soreness
Helpful in Physical Therapy Treatments and recovery from injuries
It provides additional stability during unassisted stretches and poses.
HOW DOES IT WORK?
The Infinity Strap prevents injury and facilitates gradual and gentle stretches that protect your muscles and make you more and more flexible each day.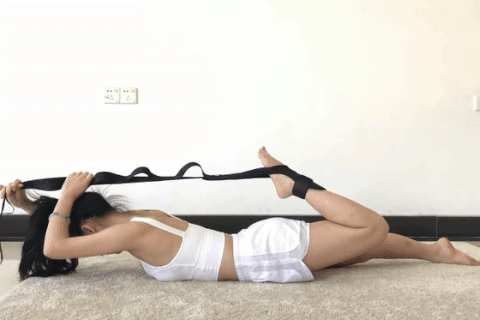 When you stretch you elongate your muscles around the joint which helps increase the range of motion and in turn, helps to avoid injury. 
SPECIFICATION

Color: Black
Material: Polyester cotton
Length: 44.8in (114cm)
Foot pad: 9.4x3.5 in (24x13.5cm)
Each loop: about 6.7x8 in (17x23cm)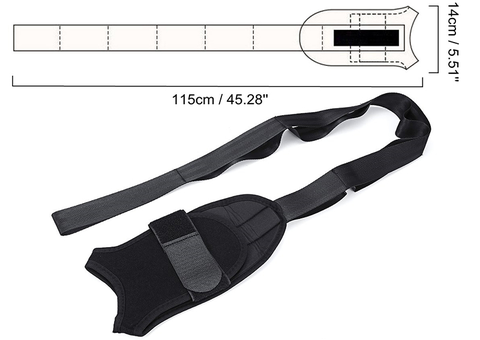 This section doesn't currently include any content. Add content to this section using the sidebar.