---
NEW TECHNOLOGY FROM AN ANCIENT TRICK HELPS TO ELIMINATE BODY PAIN FOR GOOD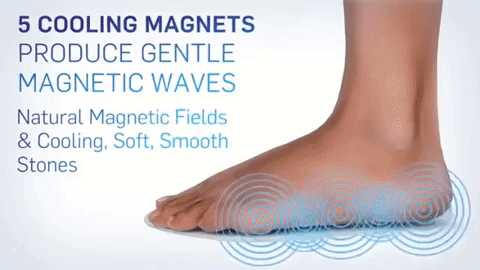 A foot massage is the single most relaxing and enjoyable service to pamper yourself with – it's believed to be equivalent to a full body massage. This is because there are over 200,000 nerve endings per sole that each corresponds to an area of your body.
Massaging of the foot, or reflexology (also known as zone therapy), is an ancient practice that originated from China but can be traced back to the Ancient Egyptians. This practice has been a welcomed complementary therapy method for many patients suffering from pain since as early as the 1930s.
This practice is based on how one part of your body relates to another part of your body. Pressure points on the sole of your foot link with different parts of your body, and by stimulating precise points, you can relieve strain, reduce pain, improve blood circulation, and boost energy levels.
Experience A Reflexology Treatment On The Go with Gel Pads Foot Relaxation Magnetized Acupressure Insoles

Gel Pads Foot Relaxation is designed for your feet to bring balance, harmony, and pain reduction. It comes with 400 precisely-placed acupoints per insole to target key areas and encourage pain relief throughout your entire body. Massage your feet with 12 large acupoints that target your foot's arch and your body's core, 120 medium acupoints that stimulate your core reflex points to reduce stress, relax the body, and relieve backache, and 270 micro acupoints to increase blood circulation.
Based on the theory of reflexology, magnets are believed to balance your body's natural electromagnetic levels. Gel Pads Foot Relaxation utilizes five natural magnetite magnets at key reflex acupoints that produce 400 gausses of healing magnetic waves to relieve overall body pain and boost endurance. Magnets are soft and cool to the touch, applying just the right amount of pressure to vital acupoints – just like having a massage therapist wherever you go!
Make every step count with Gel Pads Foot Relaxation!

Combining ancient traditional reflexology practices with modern design, Gel Pads Foot Relaxation is suitable for everyone! Custom, easy, cut-to-fit guidelines mean that Gel Pads Foot Relaxation fits all sizes for both men and women.
Trusted Method to Effortlessly Eliminate Back Pain
Back pain is the most common type of pain and affects eight out of ten people in their lifetime.
Most back pain symptoms are caused by several things: pinching of the nerve along your vertebrae due to swollen disks, or from muscle and ligament strain due to heavy lifting, sudden awkward movements, or poor physical condition.
The sciatic nerve is the longest nerve in our body; it runs from the lower back through the hip and along our leg to our heel. When this nerve is pinched, it creates pain which contracts our muscles and creates more pain– thus creating a vicious cycle. By inducing relaxation with Gel Pads Foot Relaxation, you can break this cycle, relieving any back pain almost instantly.
Function:
Spread the dummy's blood vessel, absorb the heat, and send the teat to devices over the body
Dismantle the harmful material of blood vessels such as calcium, lactic acid, uric acid exudate out quickly
Make your blood circulate smoothly
Features
• Uniquely designed with scientific constructions
• Perfect for all ages and both men and women
• Provides health care and pain relief for your feet
• Improves blood circulation, eliminate foot odors
• Great for elderly people or people who have walking problems
• Suitable to wear every day 
Package Includes:
1 x Magnetic Therapy Insoles