---
Father's Day Gift!HURRY TO ORDER! Limited time sale!Note: Only one person's name can be engraved on a bead. If you want to engrave multiple names, please purchase multiple beads! When you order leave note or send the names which you want to engrave via email.
Stylish details give the Men Braided Leather Bracelet with Small Custom Beads in Silver plenty of visual appeal. With a supple band of braided black leather in your this custom bracelet is personalized with up to ten beads, each with an inscription of its own. A sturdy clasp ensures that the fit is comfortable and secure. This bracelet is made with Sterling Silver. It features:
★1-10 beads
★1 inscription per bead
★Black leather color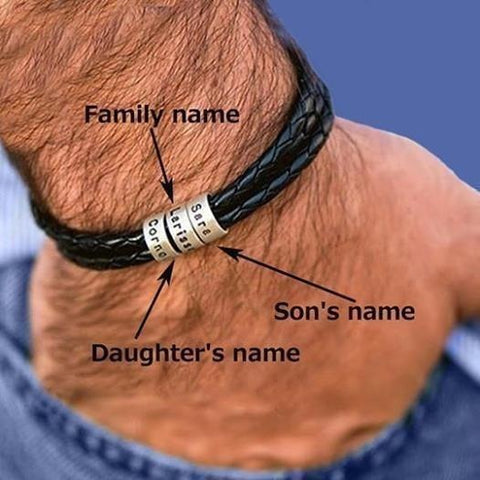 WHY HE'S GOING TO LOVE IT❤ :
This bracelet is a wonderful symbol of family, friendship, or values, or perhaps a combination of those, depending on the details you choose. Designed to deliver a combination of comfort and classic style with a contemporary twist, it's a steadfast reminder of the special place he holds in your heart.
Description:
Material:Silver
Thickness:0.9mm / 0.03"
Measurements:5mm x 10 mm / 0.2" x 0.4"
Chain length:19cm / 7.5"
This section doesn't currently include any content. Add content to this section using the sidebar.