---
Get your laundry done whenever and wherever with the New 2 In 1 Washing Machine! Clean and dry your clothes in minutes!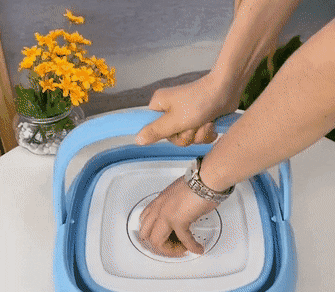 This New 2 In 1 Portable Mini Folding Washing Ạnd Drying Machine is a fantastic way to wash and dry your clothes while you're on the go! All you need to do is fill it with water and cleaning agents and then press the button.
Why should you buy it?
2-IN-1 FUNCTION: The high-frequency vibration cavitation accelerates the dispersion of liquids, so as to achieve the purpose of cleaning. There are automatic cycle cleaning, turbine forward and reverse in 2 minutes, ultrasonic vibration in 15 minutes, and bubble cleaning in 5 minutes. In addition, the product also has a bucket to help dry laundry by rotating mode.
PORTABLE AND CONVENIENT: This mini washing machine is perfect for when you're traveling and don't have access to a regular washing machine as it folds into a very compact unit. Moreover, the 2-in-1 design makes the washing and drying and have the laundry done just in minutes. 
 SPACE SAVING ITEM: With the foldable design, the product can be stored in small spaces such as cabinets or under the bed by folding down.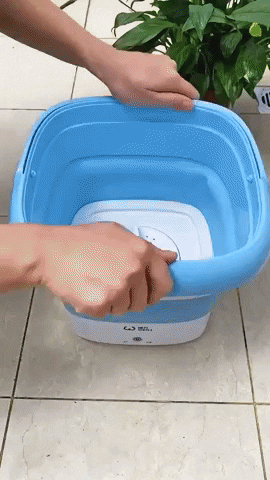 DURABLE AND FRIENDLY-ENVIRONMENT: The product is made of high-quality polypropylene. This makes the product durable, non-toxic, environmentally friendly, and odorless.
SAVE ELECTRICITY AND WATER: The mini portable washing machine has a single design, suitable for personal laundry. A portable washing machine not only saves one-third of water but also saves electricity than washing machinery suitable for washing light clothes, such as ties, T-shirts, underwear, and baby clothes. 
Specifications
Material: Plastic
Inner tube material: PP+TPR
Product size:

Unfolding size: 20.5x20.5x26cm/ 7.99x7.99x10.14''
Folding size: 20.5x20.5x11cm/ 7.99x7.99x4.29''

Rated voltage: 220v
Rated frequency: 50Hz
Rated power: 100w
Package includes
1 x Portable Mini Folding Washing Machine
1 x Drying Bucket
This section doesn't currently include any content. Add content to this section using the sidebar.