---
WHAT YOU NEED FOR PAIN RELIEF 
Long hours spent working or sedentary sitting causing you neck pain? Then our Neck smart neck massager, for neck pain is definitely the right choice for you.

 WHY DO I NEED THIS?
Neck Massager works by using a combination of low-frequency electrical impulses, consistent heat, and TENS (Transcutaneous Electrical Nerve Stimulation) technology for instant relief and maximum comfort.


Multiple kneading massage nodes deliver gentle warmth and electrical pulsations 3 to 5 centimeters below the skin. Neck Massage-Pro™ replicates the traditional acupuncture and deep-tissue Shiatsu therapy allowing your stiff connective tissue to let go almost instantly by accessing the depth of your trigger points.


This results in more blood flow to problem areas and the release of natural pain killers called endorphins. 
It just feel like you have a personal massage therapist with you all the time. It just feel great and relaxed.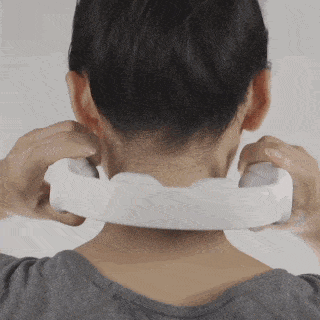 Don't ignore the muscle pain and stiffness in the neck and shoulders. The Portable Smart Neck Massager  uses low-frequency TENS pulse principle to simulate three massage techniques with up to 15 different strength settings. It can effectively relieve muscle pain  and soothe fatigue, giving your neck the love it deserves.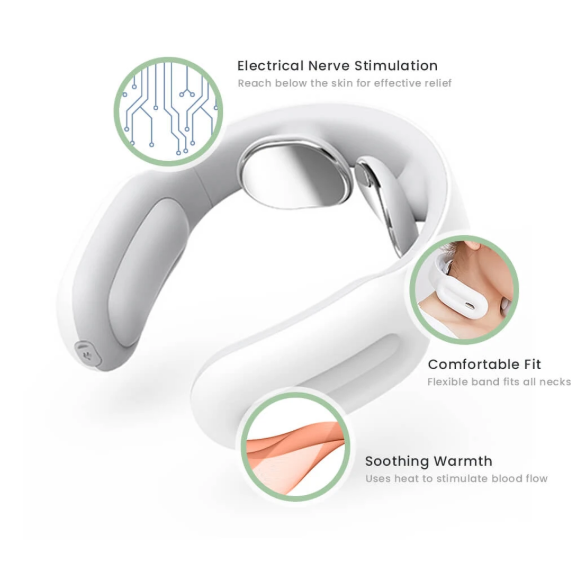 From now on you can say goodbye to expensive chiropractor bills, with adjustable pressure, heat, and strength control you can now give yourself the massage you need in seconds.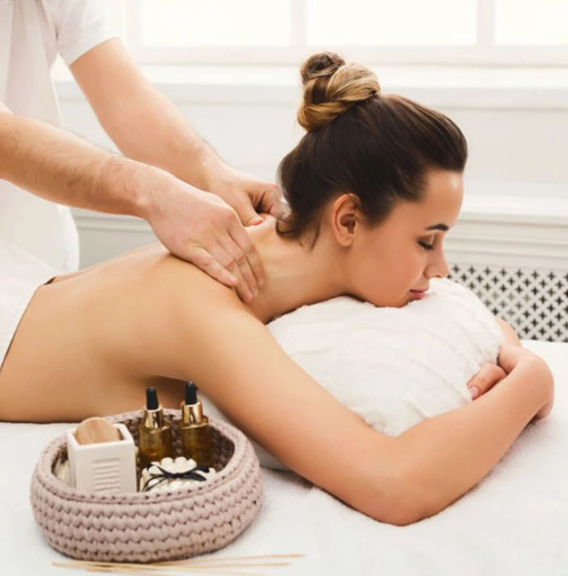 With our innovative technology, the neck massager will pin point specific pressure points to alleviate all kinds of pain. While also featuring our advanced lightweight design, 8 hour battery life, & extreme durability you can use it whenever and wherever you'd like, such as your home, office, gym, car, travel, etc.
Just like a soothing massage from two real hands
Soothing Heat Function
Ergonomic "L" Shape Design to fit all neck sizes
Ultra Portable and Lightweight
The Intelligent Neck Massager is a must have for anyone who suffers from neck and back pain, tension, or soreness.
Features:
1. Through low-cycle pulse technology, penetrate 3-5 centimeters below the skin to open the pain points and meridians, and lighten the pain of cervical spine.
2. Constant temperature massage. Hot compress at 42℃ can relax blood vessels, relax muscles and bones, accelerate blood circulation and relieve cervical pain.
3. 3 massage modes and 15-step force adjustment. Acupuncture and moxibustion mode, massage mode and knocking mode.
4. Shut down at regular intervals. The default 15 minutes after automatic power failure, safer, more assured.
5. USB charging. 450mAh battery, charged for 2 hours, massaged for 15 minutes every day, lasted for about 1 month.
BENEFITS
✔️ Relieves Muscle Soreness: Our neck massager soothes aching muscles, while promoting blood circulation. Experience a deep massage at home, in the office, or while traveling. 
✔️Ergonomic Design: The Neck uses breathable silicone to hug your neck comfortably. It adopts a smart 3D floating electrode plate while using a 4-point fixed design. Our "U" shape design follows the shape of your neck to ensure comfort.
✔️ Portable: Stay light and on the go with our compact design. Take Neck with you to any occasion and receive a soothing massage anywhere! The neck massager feels like air as it only weighs 150 grams. 
✔️ 3 Massage Modes: The Neck has 3 adjustable modes & 15 gear adjustments. Set the Massager to compliment your mood. Acupuncture, Massage, or Knocking Mode.
✔️ Long Battery Life: Our 450 mA built-in battery can support 30 days of use on a single 2 hour charge!
Massager HELPS REDUCE...
✔ Neck pains & stiffness
✔ Arthritis in shoulder & upper back
✔ Headaches & dizziness
✔ Cervical nerve pain
✔ Muscle spasms & muscle soreness
✔ Knotted neck and shoulders
✔ Body tension
✔ Insomnia
With our lightweight, compact, and stylish design, Massager is perfect for any occasion. 
 Relieve tightness and receive a satisfying, deep, relaxing massage at home, in the office, or during travel.
Prevent and reduce neck and shoulder pains with just 15 minutes a day. You're never far from a massage, as Massager can be trusted to take the pressure off