---
PERFECT FUR WITHOUT KNOTS AND LOOSE HAIR
A regular grooming routine is essential for a cat's health. Regular brushing not only eliminates knots and carpets, but also improves coat condition and reduces shedding. The brush is a perfect tool to help your kitty grooming!
With its pumpkin-shaped head, this brush gently removes knots and carpets and helps improve the condition of the coat by distributing natural oils through the coat.
GENTLE SCRATCH YOUR PET SKIN
With its curved wire bristles, this brush penetrates deep into the coat and cleans the undercoat well without scratching your pet's skin!
Brushing and massaging regularly with this pumpkin shaped cat brush can help improve blood circulation and relax your pets. Let your pet love grooming with this cat brush!
 NO MORE PAINFUL GROOMING BRUSHES
Forget painful and uncomfortable brushes. With this article, your cat will never be the same again. This brush cleans and massages their skin and leaves them with a shiny coat! After brushing the hair with this brush, press the cleaning button to remove any residual hair on the brush. It only takes about 5 seconds to clean thanks to the intelligent self-cleaning function.
This significantly saves time and energy for grooming and cleaning. The grooming brush is designed with a comfortable and ergonomic handle with non-slip texture, which reduces the pressure on your hands. It can prevent hand and wrist fatigue.
RELAX AND RELEASE STRESS
Keep your floors free of pet hair with our easy to use brush. Cats are naturally very clean, but many need help keeping their coat free of excess fur. We designed this brush to be gentle on your cat's skin and coat, yet strong and effective enough to remove all excess hair.
The bristles have been specially designed to make the cat's experience more pleasant: they gently massage its skin, stimulate it to release the stress accumulated during the day and leave its coat shiny and healthy.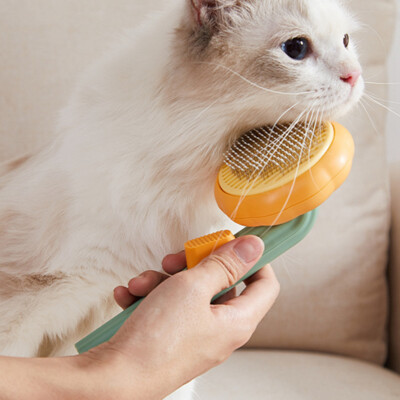 Specifications:
Material: ABS plastic & metal
Size: 9 x 19.5 cm
This section doesn't currently include any content. Add content to this section using the sidebar.