---
The interesting Bird Modelling Automatic Watering Device!
Use this lazy product to achieve the purpose of easy watering and convenient plant care.
BENEFITS
◆|Bird-shaped shape, standing design increases water capacity, and upward beak design makes irrigation easier.
◆|Make your plants fresh, beautiful, and healthy, Sufficient moisture.
◆|The water shortage of plants can be judged according to the appearance of the birds.
◆|The red pottery tail slowly penetrates the water into the soil, You don't have to worry about the loss of soil or nutrients due to the water flowing too fast.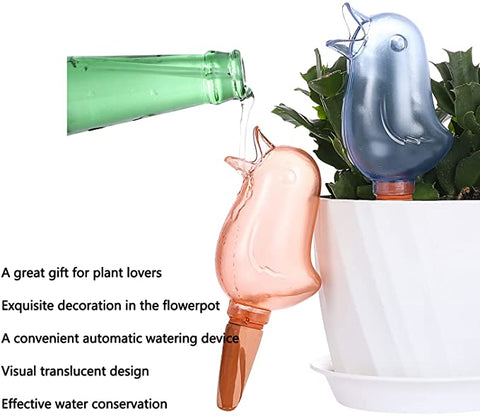 Main Features
►【Save Time And Effort】

When plants need water, please use Bird Modelling Automatic Watering Device to ensure that flowers and plants always maintain sufficient water. You don't have to worry about the plants being left unattended, it will automatically water for you, you can relax and enjoy your holiday.
►【Perfect Design】

The plant watering device is made of high-quality PS plastic, and the bottom of the bird is made of red pottery; the transparent body makes the internal water volume clearly visible. It is environmentally friendly and durable, and the cute bird-shaped design provides the perfect decoration for your plants.

►【Easy To Use】

The Bird Modelling Automatic Watering Device is easy to use, just dig a hole, insert the self-watering pile into the soil, and then add water.
►【Multiapplication】

Whether your plant is indoor or outdoor, at home, or in the office, you can use it for watering. Perfect for potted plants, indoor plants, terrace plants, hanging baskets, deck pots, hanging plants, or any other plants.

Specifications