---
Our soap-dispensing sponge makes doing the dishes less of a chore and even convenient!
You have eaten and already think about the annoying washing up? And for this reason you postpone the washing up until the day after?
We have THE SOLUTION for YOU!
With our soap-dispensing sponge it will now be a pleasure to do the dishes. Thanks to the handy handle, the sponge sits comfortably in your hand.
This means your hands won't get wet or dirty! And you don't have pain from the eternal scrubbing anymore!
In addition, you save yourself the unpleasant feeling of food residues or other dirt on your hands. 
The right helper for every situation Burnt pots and pans, greasy salad bowls and plates? No problem at all anymore.
Have you ever experience smelly regular sponge?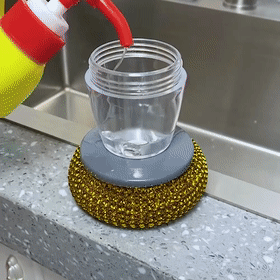 There is such a convenient and hassle-free cleaning brush, Hurry up and give it a try!
Main Features
HEAVY-DUTY STAINLESS STEEL SPONGES SCOURER
Our scrubber are rust-resistant, scrubs away stubborn stains, grease and grime that built-up over times. Effortlessly cleaning kitchen appliances, dishes, pots/pans, Great for automobile, household equipment, commercial use and more. The scrubbers are really gentle on your hands, it will not splinter or scratch your skin. Easy to clean and built to last a long time and dishwasher safe.
100% PREMIUM QUALITY, NO MILDEW SMELL, ANTI-BACTERIAL
Our scrubbers are designed to improve traditional sponges in any possible way. To be more clean and healthy, these scrubbers are no smell, safe, and resistant to bacteria.
NON-SCRATCH PREMIUM NANO FIBER MATERIAL SCRUBBER
Have you ever experience smelly regular sponge? New PET Soap Dispensing Palm Brush. Non scratch and safe for cast iron, non stick pans and pots, glassware, plastic Tupperware, and many more.
BUILT-IN LIQUID STORAGE TANK
For cleaning, you only need to press the top soft glue to discharge the liquid. Press the liquid-the cleaning liquid is not wasted, cleans smoothly, and is economical.
ADVANTAGE
Convenient liquid discharge, strong decontamination, no sticky hands, no skin damage. No need to wash, save time and effort without hurting your hands, and powerfully decontaminate.
Specifications
| | |
| --- | --- |
| Materials | |
| Used for  |  Washing kitchen stoves, washbasins and ceramic tiles. |