STRENGTHEN AND TONE YOUR ABS MUSCLES LIKE NEVER WITH THE NEW FLEX-FIT™ BELT!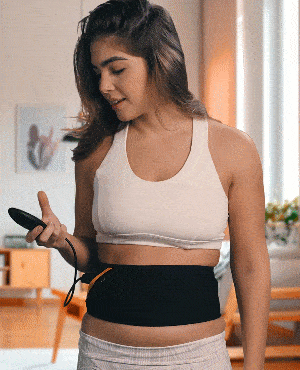 The Flex-Fit™ Abs Belt Toning system cleared by the FDA for Toning, Firming and Strengthening the stomach muscles. With The Flex-Fit™, you can train your abs even if you're too busy or too tired for a traditional workout. Just slip on the comfortable toning ab belt and the clinically demonstrated, patented medical-grade technology stimulates the nerves that make your muscles contract and relax. As a result, you get an effective abdominal workout that targets all the muscles in your abdomen – all in just 30 minutes a day.
FEATURES:
Exercise just 30 minutes a day.
Easy to operate and convenient way to use.
Replaceable large gel pad that massages a large area.
Strengthens, tones, and tightens muscles.
Electromagnetic pulses help to strengthen and define your core with increased muscle contractions.
Easy button control in 6 modes.

An original training pulse with a specific current frequency is used.
Develop a training method for effective muscle training.
OUR MOTTO IS EAT RIGHT, EXERCISE, AND USE FLEX-FIT™
SMART DEVICE THAT ACTIVELY TONES YOUR ABS - WHILE YOU DO OTHER THINGS!
FDA Cleared for Toning, Strengthening and Firming Abdominal Muscles;

Medical Grade Abdominal Toning Technology for Men and Women;

Clinically Demonstrated Results You Can See and Feel In Just Weeks;

100-Percent of Users said their ABS felt more toned and firm, 92.3-Percent of users felt the firmness of their abdominal muscles increased;


TONING TECHNOLOGY FOR YOUR ABS!
Using The Flex-Fit™ in conjunction with your dedication to Diet, Nutrition, and Exercise will help you achieve your goals of a tighter, more attractive stomach. The Flex-Fit™ does not remove inches of fat but it tones, tightens and strengthens your stomach muscles.

GEL PADS FEATURES
Our Gel Pads are medical-grade devices that are applied to the back side of the different Flex-Fit™ Core Belt.

BE SURE TO REPLACE YOUR GEL PADS ABOUT EVERY 30 SESSIONS TO ENSURE OPTIMAL RESULTS.
When you are ordering your Flex-Fit™ Core Belt, you may order more Gel Pads to be sent with your order. We recommend adding an additional 2-3 sets to your initial order.

PERFECT ABDOMINAL CONTRACTION ANYTIME ANYWHERE!
When you first start toning, you will feel a tingly sensation. As you increase the intensity you will start to feel distinct muscle contractions. This is when Slendertone Connect (and you) are optimizing your workout. It should not be uncomfortable, but you should feel like you've pushed yourself a little bit harder every time you tone. You should be able to hold a conversation, work at your, or do chores around the house.

APPLICABLE PEOPLE
YOUR FLEX-FIT™ SYSTEM BELT PACKAGE INCLUDES
The FLEX-FIT™ CORE ABS BELT and Gel Pads.

The Rechargeable Power Supply Unit.
An Instruction Manual.
Belt Extender to accommodate 47" to 52" waist.