---
Whiter teeth within 3 days
We all know the problem of our teeth turning less white due to stains caused by coffee, tea or tobacco products. Unfortunately, teeth whitening is often temporary and very expensive.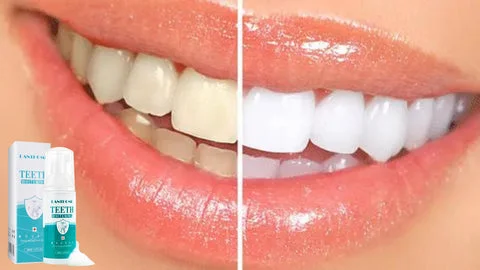 MAKE YOUR TEETH NO LONGER YELLOW TEETH WITH ZERO PEROXIDE SENSITIVITY!

WE TEAMED UP WITH MOTHER NATURE TO DELIVER A TOOTHPASTE WITH THE MOST EFFECTIVE WHITENING AND CLEANSING INGREDIENTS ON EARTH. 

THE POWERFUL CLEANING ABILITY OF COCONUT OIL CAN PENETRATE THE GAPS OF TOOTH ENAMEL EASILY THAT 360° EFFECTIVELY CLEAN TARTAR, REMOVE ODOR BRIGHTEN TEETH, PROVIDE FRESH BREATH AND HEALTHIER GUMS!
FEATURES
CLEANS AND WHITENS
Our non-abrasive charcoal toothpaste clears away stains, whitening teeth and leaving your mouth and gums clean and fresh.
MORE EFFECTIVE THAN TRADITIONAL TOOTHPASTE
This intensive stain removal mousse is the most effective and natural stain-remover by making use of the strong cleaning power of coconut oil and bamboo charcoal.
TREAT AND REMOVES COMMON DENTAL PROBLEMS
The coconut oil and bamboo charcoal fights harmful bacteria that can often lead to cavities, tooth decay, gum disease, and worse. Coconut oil pulling also leaves behind good bacteria, ensuring optimal oral health.
USE AS A MOUTHWASH OR TOOTHPASTE
This mousse mouth cleanser can be used as a mouthwash and as a toothpaste. Swished it around your mouth to adhere to harmful bacteria and removes it from the tooth.
NATURAL INGREDIENTS
Containing a natural ingredients to maximize the effectiveness while providing a safe and gentle cleansing of the mouth. It has a coconut oil, bamboo charcoal, xylitol, and a mint leaf that refreshes your breath and reduce mouth odor.\
EASY TO USE ANYTIME, ANYWHERE
Simply apply a dollop of foam to your toothbrush and brush your teeth the way you always do.
Say goodbye to expensive whiter teeth solutions
LANTHOME  Foam is not only healthier but also cheaper than all other whitening solutions. Normal teeth whitening results are temporary. The results of a HiSmile foam pack, on the other hand, last for almost 12 months.
Make your teeth whiter and stronger than ever
With the new, proven formula developed by dental specialists, you can easily make your teeth 8 shades whiter and healthier without the use of chemicals. The comprehensive protective substances ensure that current stresses on your teeth are removed and future stresses are prevented.



Painless solutionUnlike all others
whitening solutions, HiSmile is the first painless whitening solution for all tooth types. No strips, no splints, no UV/light, no 2 week wait, no pain.

Long Lasting Results
With products developed by dentists,

LANTHOME™ products work quickly and leave your teeth looking white and radiant for up to 12 months after just one pack!


Proven by the dentist
HiSmile was developed by dentists to provide whiter, healthier and better teeth. This advanced foam whitens your teeth like a professional treatment, giving you confident white teeth naturally.

Show your beautiful smile all day long
Imagine feeling confident with your bright white smile, healthy teeth and fresh breath all day long. This is only possible with our
LANTHOME! Making your teeth whiter and healthier has never been easier! You can do it anywhere, anytime!