---
CLUTTERED AND DISORGANIZED KITCHEN IS A THING OF THE PAST!! 
Introducing our Under-cabinet Organizer Rack with Hooks. The easy to install tool offers the most convenient way to store utensils, cups, towels, cookware or anything you want under the cabinet to mazimize & save space hence bring organization to your kitchen.
It's creative U shape design makes it easy for it to slide and clip well on the shelves and cabinets, no drilling needed. 
Our Under-Cabinet Organizer Rack is so easy to install. Simply slide the rack over the cabinet or shelf. It's totally nail free. It's smooth and does not scratch the cabinet/shelf.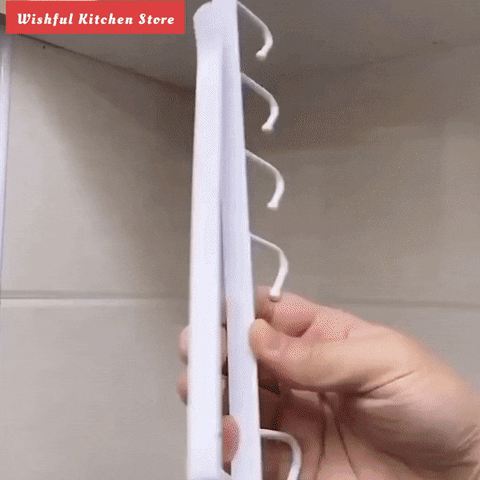 The rack is designed to fit on a standard shelf or cabinet and has 6 hooks that can hold up to 20kg of kitchen utensils. It does not affect the opening and closing of the cabinets. 
Features
Saves Space and Brings Organization. This Under-Cabinet Organizer Rack saves space in the kitchen and ensures that the utensils are well stored and organised in a coordinated manner. It's time to keep your kitchen organised with our Under-Cabinet Organizer Rack 
Easy to Install. Simply slide the rack over the cabinet and that's it!
Multi-use. This rack with hooks can hold cups, spoons, towels, pans, gloves and so on. They are also perfect for bathroom shelves, bedroom wardrobes (can hang ties). Perfect for both cabinets and shelves. Can be installed both horizontally and vertically depending on your needs.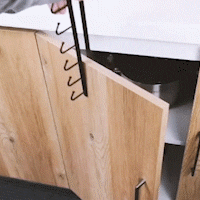 Creative Design. 
It is designed to perfectly slide well on the cabinet or shelve. It is so smooth and will not scratch the surface. The organizer rack have great colours to match your kitchen interior. It is designed with perfect thickness to ensure the cabinet closes well.
Durable. Our Under-Cabinet Organizer Rack is long lasting does not wear out. It is made of high quality iron which does not rust. 
Package includes:
1 x Under-Cabinet Organizer Rack (6 Hooks)