---
Main Features
✅ EASY TO USE
With an automatic cutter blade, this fruit slicer is your solution for a one-push cut. There's also a cutting ruler to help you measure and serve fruit to your ideal size.
✅ PROFESSIONAL PRESENTATION
Want perfect cube fruit? This watermelon slicer is designed to allow you to make clean, evenly sliced pieces without the hassle of cutting them into uneven rows.
✅ ZEST WITHOUT THE MESS
Now, you can enjoy quick and effortless serving straight from the fruit onto the plate. Indulge in a watermelon, melon, or cantaloupe salad without getting sticky hands!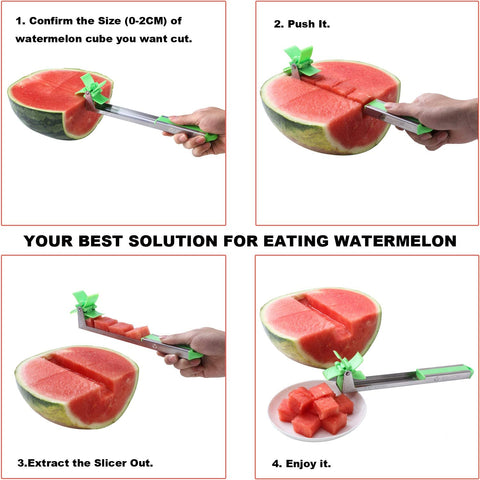 ✅ SAFE, EVEN FOR KIDS!
Our slicer has round edges and non-sharp blades that make it easy to handle even with children's' small hands. A safe, drip-free way of cutting fruit into perfect pieces.
✅ IDEAL KITCHEN TOOLS GIFT
If you have friends and relatives who love to spend time in the kitchen, here's a great gift for housewarmings, Christmas, birthdays and other special occasions.
Usage Scenarios
Everybody loves watermelons, melons, and cantaloupes, especially in the summertime. But these huge fruits require effort to cut, especially since you can slice them in so many ways: into cubes, rounds, wedges—you name it! If you enjoy these fruits on almost a daily basis, you know that the whole process of cutting them alone is arduous enough. Enjoying a refreshing fruit salad shouldn't mean enduring the hassle of cleaning up sticky surfaces and utensils!
Using Methods
Specification
| | |
| --- | --- |
| Materials | |
| Product Size | Windmill Watermelon Chopper: 30CM × 7CM × 4CM |
| Package Contents | Windmill Watermelon Chopper × 1 |
This section doesn't currently include any content. Add content to this section using the sidebar.